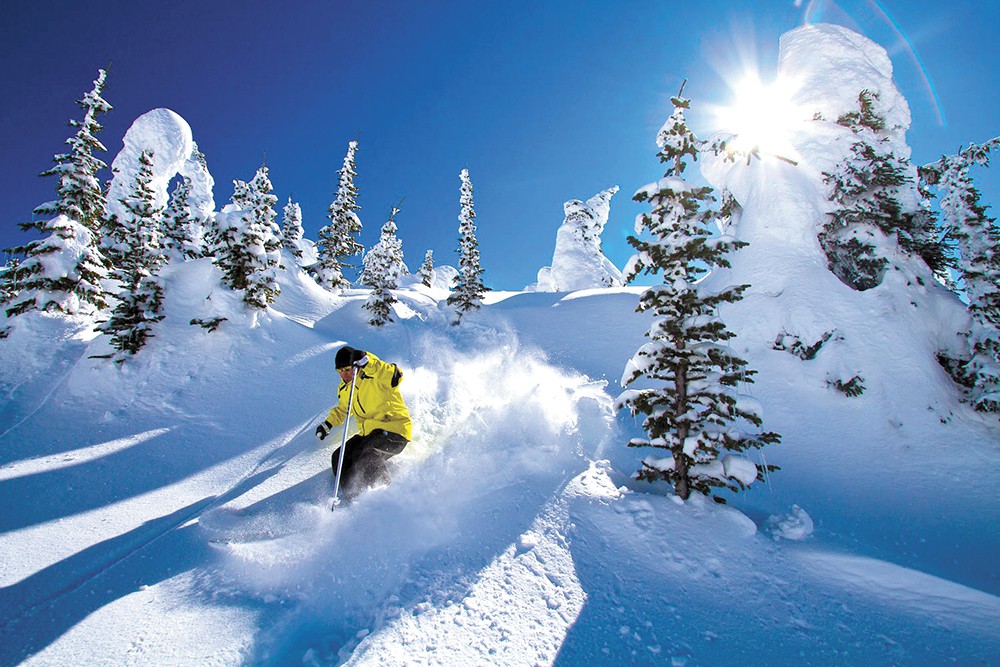 Like so many stir crazy souls, mid-winter madness creeps in on Uncle Boise, too. I don't really have a calling to go too far from home since Idaho is one of the finest places on earth. Being the true definition of a hometown boy, more often than not I just want to investigate the wonders of Idaho.
With skiing so close, and not only within, but close to the borders of Idaho, I go north, base out of Coeur d'Alene, and take the short ride to the slopes. When I want to have a little diversion, and kiss the sky from a chairlift, I go visit my buds in Coeur d'Alene.
Over the years, Uncle Boise has made a lot of friends in Coeur d' Alene and I've gotten to know the town very well through their eyes. Since my gang up north like to play in the area's winter wonderland, I travel up every winter to get a little raucous on the slopes. Some of the crew had recently taken up snowboarding – I don't know, to me the mountains are safer on skis, but someday I might give it a go – on a bunny slope.
Uncle Boise isn't interested in breaking anything for the sake of a good time. I am in pretty good shape, I keep active at work managing a skilled group of commercial plumbers Hamilton so I ain't taking too many chances of screwing that up. Those days of tipping the edge have been in my face lately – literally.
When I was skateboarding with my nephew, and my borrowed board hits a ridge in the sidewalk, I landed at the base of a large tree where I and its root system became one. I looked worse than I felt, but nonetheless ended up at the local Emergency ward with a bruised rib and a black eye. I'm a tad bit more discerning these days.
Even so, I'm not one for letting a good time get away from me. Once in Coeur d'Alene four to six of us, head out to one of the four major winter sports resorts not far outside of town. Naturally, they all cater to both skiing and snowboarding, and I know the ride will be about getting Uncle Boise on a snowboard. I'll tell you right now, after more thought, it's not happening.
One of our favorite mountains is 49° North. Forty-nine Degrees North, or as the locals call it 49, is a fail safe snow resort destination. I love the 800 acres of wide-open runs, groomed to perfection. It boasts dry powder and a base with an accumulation of 300 to 400 inches a year. It's also great for family time. From beginners to black diamond mogul maniacs, its got whatever you want. With Chewelah Peak as the star of the show, 49 has been constantly developing and evolving since 1935. A rope tow was installed in 1939 and the star was born. Today 49° North sees skiers from all over the globe and even those from Boise.
Another favorite hangout is Lookout Pass. Back within the borders of Idaho, Lookout pass has been luring the adventurous out to play since 1935. Our gang usually splits up with the more bodacious going to Borderline and others who have a little more wussie in them head to Huckleberry Jam. You can guess which chairlift Uncle Boise is riding. I don't spend the whole day at Hucklberry, but it's a great way to get my skiers legs back under me. It has shorter downhill trails with basic features and smaller jumps.

The skiing is awesome, and being with my pals is good for the soul. Having a gem like Couer d'Alene as a playground in my backyard is something I take personally. I absorb every aspect I can and take full advantage of the gifts of Idaho. Uncle Boise invites you to come to Idaho, and let this beautiful state blow your mind with all it offers. Email me if you get here and I'll give you some tips on my favorite spots to check out.